DealHub CPQ (Configure-Price-Quote) is a collaborative sales engagement platform that provides real-time insights into the engagement and interest levels of prospects. It allows you to configure quotes that are customized according to customers' needs and sync data with your CRM automatically. Quotes can be generated in various formats, including DealRoom, Word, Excel, and PDF, to ensure compatibility on any device or platform. Automated workflows streamline the approval process and help speed up turnaround times.
One feature that makes DealHub CPQ stand out is its ease of use and straightforward, code-free implementation. All you have to do is enter your product data and configure your business rules and you're good to go. DealHub's guided selling and sales playbook features help reduce new rep ramp time.
Why this product is good
Positives of DealHub's CPQ software
DealHub CPQ saves time by providing proposal templates and document tracking, which allow sales teams to quickly create proposals and monitor what aspects of the proposal grab the prospect's attention.
The quick and easy implementation of the DealHub platform saves time and money. It can be up and running within weeks with the option to make changes at any time without the need for an IT team or DealHub tech support.
DealHub contract management and eSign features allow sales managers to drive productivity within their teams in less time, which trickles down to other teams and the performance of the business as a whole.
DealHub Billing provides CPQ users with one source of truth for revenue management.
Product Details
What is DealHub CPQ?
DealHub CPQ is part of the DealHub Platform, which uses a revenue amplification approach to bridge the gap between CPQ and other revenue operations. It comes with its contract management features that help sales teams drive deals from prospecting to closing. To help create error-free contracts, the DealHub Platform uses a guided flow and comes with free templates to ensure that all documents meet compliance requirements. It can be used to create sales proposals, quotes, NDAs, and other documents.
DealHub includes the following:
Configure-Price-Quote (CPQ)
Real-time buyer intent insights
Digital DealRoom
Contract management
Subscription management
eSign
Low-code environment
Configure-Price-Quote: DealHub CPQ makes quoting easier and faster, by empowering sales operations to seamlessly update new products, configurations, and prices in the back end. This ensures consistent pricing and discounting across the organization and enables sales teams to configure custom quotes based on your customers' needs in real-time.
Real-time buyer intent insights: DealHub CPQ provides real-time insights into your prospects' engagement and level of interest so your sales team can keep deals moving forward and accelerate revenue.
Digital DealRoom: DealRoom brings B2B buyers and sellers together in a single digital sales room, a collaborative environment that creates a deeper connection with buyers. Each personalized DealRoom incorporates all the necessary technology, documents, and data needed to close deals.
Contract management: Quotes and contracts are part of a streamlined sales process that accelerates negotiations and closes deals faster. It automates contract approval workflows and includes redlining and a contract repository.
Subscription management: Using DealHub, you can connect the quoting and activation of subscription services. DealHub's subscription management feature automates subscriptions, renewals, recurring payments, upselling and cross-selling, co-terming, and revenue recognition.
eSignature: DealHub's eSignature feature helps provide a better buying experience when customers can close deals online seamlessly.
No-code environment: Because of its simplicity, the DealHub platform doesn't require an IT team. Sales and operations teams can implement and maintain it without worry. Being a simple platform, however, doesn't mean it can't handle the most complex of quotes. It has native integration with popular CRM platforms like Salesforce, Freshworks, Hubspot, Microsoft Dynamics 365 for Sales, and SugarCRM. Its flexibility allows it to support evolving configurations and products for seamless functionality.
Billing: DealHub's Billing platform enables revenue teams to automate the Quote-to-Revenue flow. Accurate billing schedules are generated by consolidating data collected for your recurring payments, milestones, consumption, and other revenue streams.
What are the advantages of using CPQ?
DealHub CPQ Benefits
There are many benefits to using DealHub CPQ, including:
More accurate quotes
Create accurate quotes based on complete and accurate customer and sales data
Increased lead conversion rate
Drive conversion by eliminating sales process inefficiencies and complex product configurations that lead to poor customer experiences
Increased quote generation
Encourage product adoption and accelerate ramp-up time by guiding salespeople through the configuration process with question-based flows
Shortened sales cycle
Optimize the sales cycle at any stage with the help of multiple sales playbooks and scenarios
Increased deal size
Increase deal size through automatic upgrade, upsell, and cross-sell suggestion triggers
Consolidated Reporting
Accurate visibility and insights into revenue recognition, forecasting and KPIs.
Prices
DealHub CPQ Pricing
Pricing is available upon request, but DealHub offers two plans: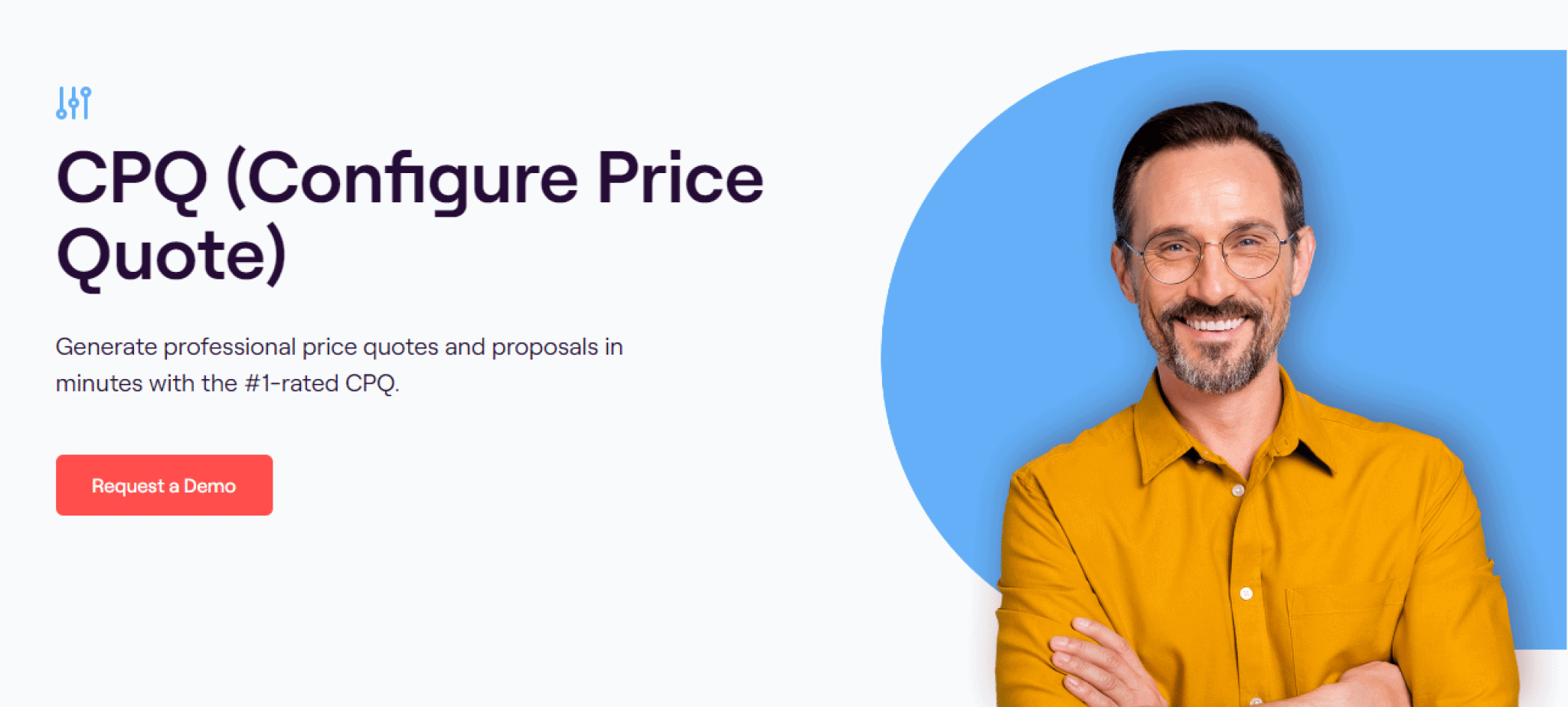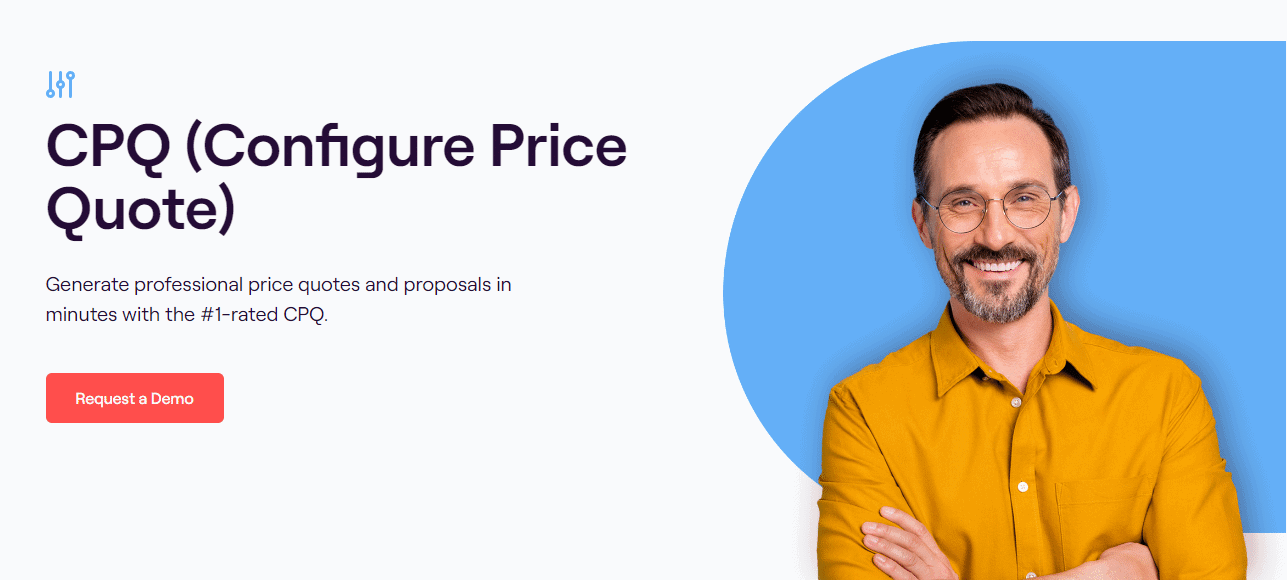 DealHub CPQ
Description
For businesses who want the complete CPQ experience, featuring multi-dimensional pricing models, multiple sales playbooks, subscription and order management, contract management (CLM), advanced parallel approval workflows, dynamic document generation, buyer engagement insights, and more.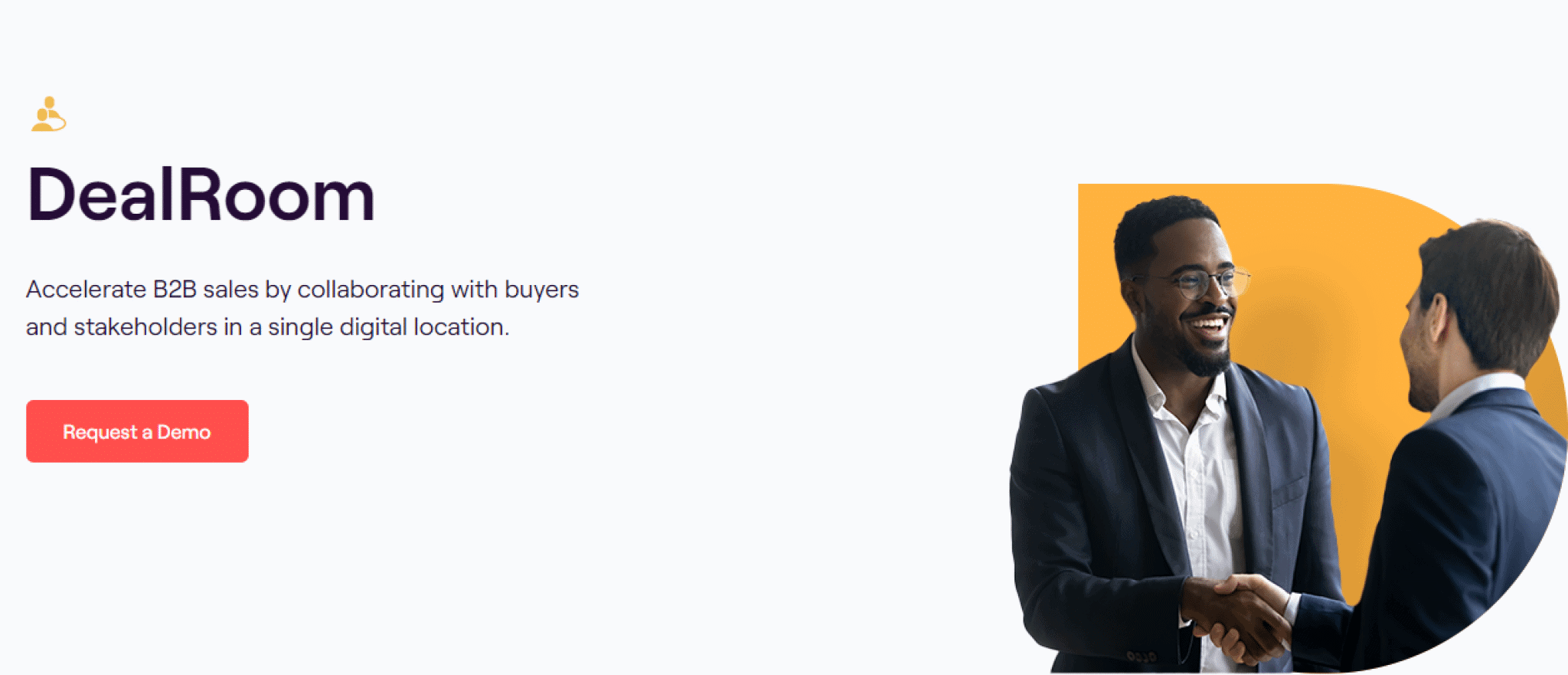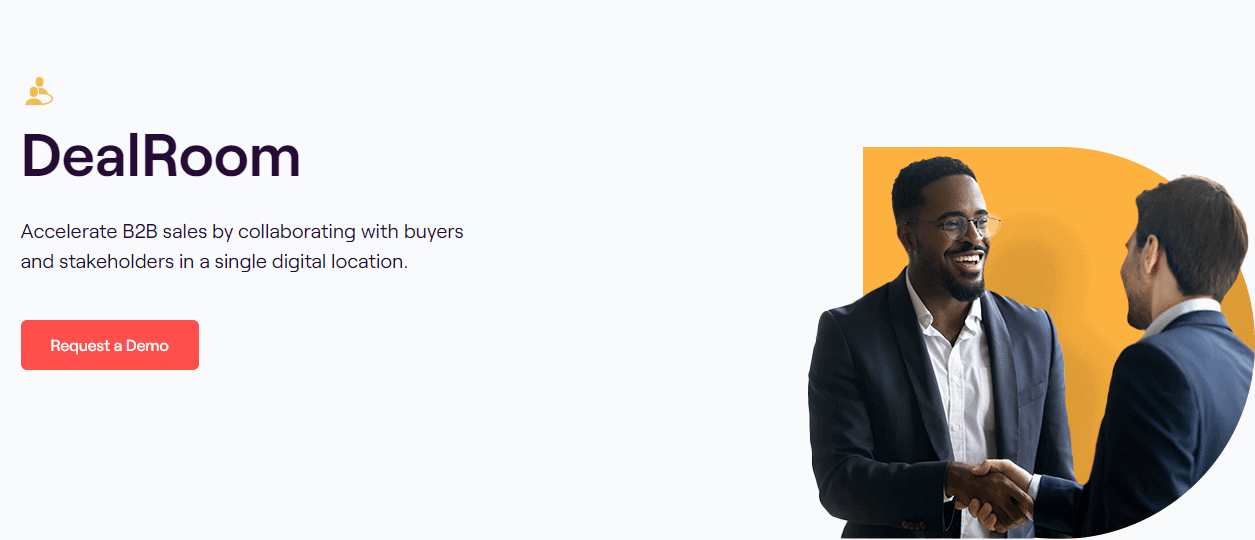 DealRoom
Description
For small businesses who only want a solution to create branded and personalized digital sales proposals
Is there anyone else out there?
Competitors and Alternatives to DealHub's CPQ
There are several competitors to DealHub CPQ, each with its features and benefits. At the enterprise level, businesses need features like advanced pricing and configuration abilities, scalability, and team collaboration. Other essential factors to consider include price, integrations, ease of use, and customer support.
Top 3 DealHub CPQ Alternatives
PandaDoc
PandaDoc is a document automation system that helps create business documents in minutes and get them signed and approved at the earliest possible time. Advanced features include custom roles, content locking, and approval and signing orders. A customizable API allows effortless integration with other business platforms, helping automate workflows and eliminating manual data entry.
A flexible pricing scheme ensures that you only pay for what you use, and comprehensive documentation ensures you maximize the features you need and not have to pay for those you don't. There are no monthly subscription fees.
Salesforce CPQ
Salesforce CPQ is a one-stop solution for deals management, with features like customizable dashboards and reports, lead and contact management, and sales opportunity management. It helps companies provide accurate pricing quickly, regardless of the product configuration scenario. It even considers customizations, optional product features, and discounted prices, with data hosted within the Sales Cloud platform. This cloud-based platform provides a direct link to your Salesforce CRM to ensure data is always synced in real-time.
Conga CPQ
Conga CPQ integrates and connects multiple departments and systems to allow a more collaborative configure-price-quote process. Conga CPQ offers product and pricing configuration, contract management, document generation, and more. Conga supports multiple pricing models for one-time, recurring, and usage-based charges, which makes it a good choice for businesses with complex pricing structures.
Valuable Insight From Real Customers
Gartner Peer Insights
DealHub CPQ has a rating of 4.8 out of 5 stars on Gartner Peer Insights. In their reviews, users praise DealHub's customer support and ease-of-use. However, some users mention that sync with Salesforce could be improved.
The reviewers and customer demographics are as follows:
Reviewer's Company Size
Less than $50M: 33%
$50M-$1B: 67%
Reviewer's Industry
Miscellaneous: 50%
Banking: 17%
IT Services: 17%
Telecommunications: 17%
Reviewer's Deployment Region
North America: 71%
Europe, Middle East, and Africa: 29%
Gartner Peer Insights affirms that DealHub CPQ is a versatile CPQ software with great customer support, as cited by the featured review on their site.
FAQs
Common Questions and Answers
What is CPQ?
CPQ software helps sales organizations configure product offerings, set up pricing rules and discounts, and generate error-free quotes and professional proposals customized to buyers' needs.
Is CPQ part of CRM?
Yes, CPQ is typically integrated into a company's CRM to help make quote generation, product configuration, and pricing as seamless as possible.
How does a CPQ solution positively impact sales operations?
Optimizing sales workflows with a CPQ solution provides more accurate quotes, increased lead conversion rate, increased quote generation, a shortened sales cycle, and increased deal size.
How does CPQ ensure pricing quotes are validated and approved?
Integrated approval workflows ensure key stakeholders are in the loop on quotes before they're sent, which is crucial when special pricing or customized product offerings are involved. Once approved, CPQ solutions can also make sure sales quotes can't be changed, whether by accident or intent after they've received approval.
How long does

CPQ implementation

take?
DealHub delivers full CPQ implementation in a few weeks, on average. DealHub assists with mapping out your sales pricing process as and when needed.
How long does it take to create a quote?
Once implementation is complete, users can create and send a quote in 5-8 minutes, on average. This is made possible by DealHub's Guided Selling process, which enables a faster time-to-quote than other CPQs on the market.

Rhonda Bavaro excels in boosting SaaS companies' growth through innovative content marketing, thriving in the dynamic sales tech industry amidst evolving technologies that drive revenue acceleration.